Dr. Emmanuel B. John Donates an E-Library to the Department of Physiotherapy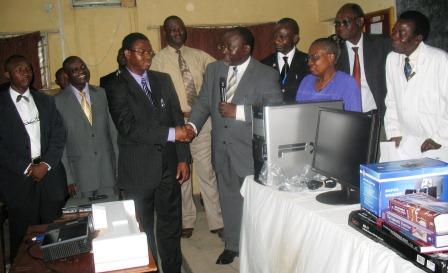 An Alumnus has donated a computer set with latest software and over 140 electronic textbooks and a non-expiring anti-virus package, all valued at over One Million, Five Hundred Thousand Naira (N1.5m), to the Department of Physiotherapy, College of Medicine, University of Lagos.
The Alumnus is Dr. Emmanuel Babatunde John who graduated from the Department of Physiotherapy, College of Medicine, University of Lagos with a Second Class Upper Division (2/1) in March 1994. He is presently an Associate Professor and Director, Motor Control and Neuromuscular Performance Laboratory, Department of Physical Therapy, Radford University, Roanoke, Virginia, USA.
While presenting the Computer to the Department of Physiotherapy, Dr. John expressed his happiness and described his visit as "Home Coming". In his Speech, he highlighted his Student days during which he acquired exemplary leadership qualities when he was the President of Nigerian Association of Physiotherapy Students (NAPS) (1992-1994), Sports Secretary of NAPS (1991-1992), Acting Editor Physio Bud. Journal of NAPS (1991-1992) and President of Rotaract Club, CMUL (1992-1993). Dr. John was also the class President of the 1994 Physiotherapy graduating class. He was awarded a Rotary Youth Leadership Award (RYLA) by Rotary International for his exemplary Youth Leadership skills in 1993. Dr. John was also the first NAPS President to participate in a program of the International Physiotherapy Students Association (IPSA) in Marburg, Germany in August 1992. His report "on to Marburg" remains at the Departmental Library of the Physiotherapy Department, College of Medicine, University of Lagos till date.
Also speaking during the presentation, the Head of Department, Dr. S.R.A. Akinbo expressed his heartfelt gratitude on behalf of the Department, Students and Staff. He further remarked that today marked the beginning of good things in the Department and noted that the Department has enjoyed tremendous support from the Provost as there has been a positive change in both the quality and number of lecturers. He added that the department now runs Postgraduate Programmes and the first set graduated recently.
The Provost, Prof. O. A. Atoyebi noted that the computer set donated was virtually an e-library. He stressed that students should emulate the good and exemplary gesture exhibited by Dr. John and should not fail to give back to the College.
The Dean, Faculty of Clinical Sciences, Prof. (Mrs.) Adefule-Ositelu, also joined the Provost in expressing an unreserved appreciation for the donation and promised that the computer set would be fully utilized for learning purposes.
The Alumni and Advancement Office thanks this great alumnus, Dr. Emmanuel Babatunde John for this giant stride and would like to encourage other alumni/alumnae to kindly support to the College in any way they can to remain the College of first choice.
Published
23:38:00 07.07.2010